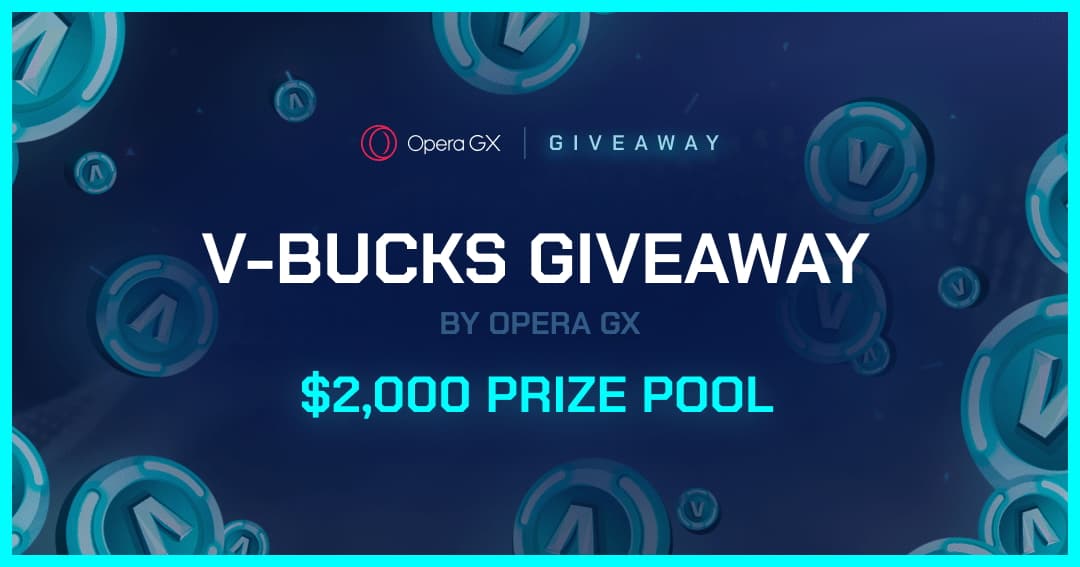 Opera GX is giving away more than 270,000+ V-Bucks to Fortnite users, approximately $2,000 in prizes. Enter for a chance to get one of 20x 13,500 V-Bucks!
Opera GX is a browser created especially for gaming users. You can control RAM and CPU usage to get better performance while playing any game. Also, you can check about free games daily on different platforms like Steam, Epic Games, Origin and more.
Each week offers a variety of giveaways that you can enter to get rewards they offer.
How to enter to Opera GX Giveaway
To participate in Opera GX Giveaway, you must follow the steps and requirements:
Download Opera GX on your desktop from the following link:
2. Install browser and run it.
3. Enter to the following link:

4. Complete the form with your nickname and Fortnite e-mail and accept by pressing the "Continue" button.
5. Done! You will be participating in the giveaway!
The entry must fulfil all requirements of the giveaway, as specified, to be eligible to get a prize. Make sure you are using a desktop version of Opera GX.
GX Mobile is not supported by this giveaway.
There's 270,000 V-Bucks at stake, so go and install Opera GX!
The browser for gamers
This awesome browser was designed exclusively for gamers, where you can customize many aspects and get great benefits when you have the browser open and at the same time, you are playing a game.
You can use Twitch and Discord from the sidebar, also you can add WhatsApp or other social network like Instagram, Messenger, Facebook, and much others.
Is Opera GX the best browser?
Opera GX, compared to other browsers, is the most flexible in terms of its design and use. It allows you to modify any aspect of the browser and also has sound effects when you press any key, open or close a tab, and many more features.
I can't to enter the giveaway
If you when entering the giveaway you get a message that you do not have Opera GX installed or something, we will explain step by step how to solve this problem:
Clear cache and cookies
One of the most effective solutions to this problem is to clean the browser's browsing data. Sometimes the browser saves information from previous updates and results in this error.
Re-install Opera GX
Sometimes the browser is installed with some internal problem or a corrupted file. The solution is to reinstall the browser again.
What do you think? Leave us a comment and tell us if you are already participating in the giveaway!